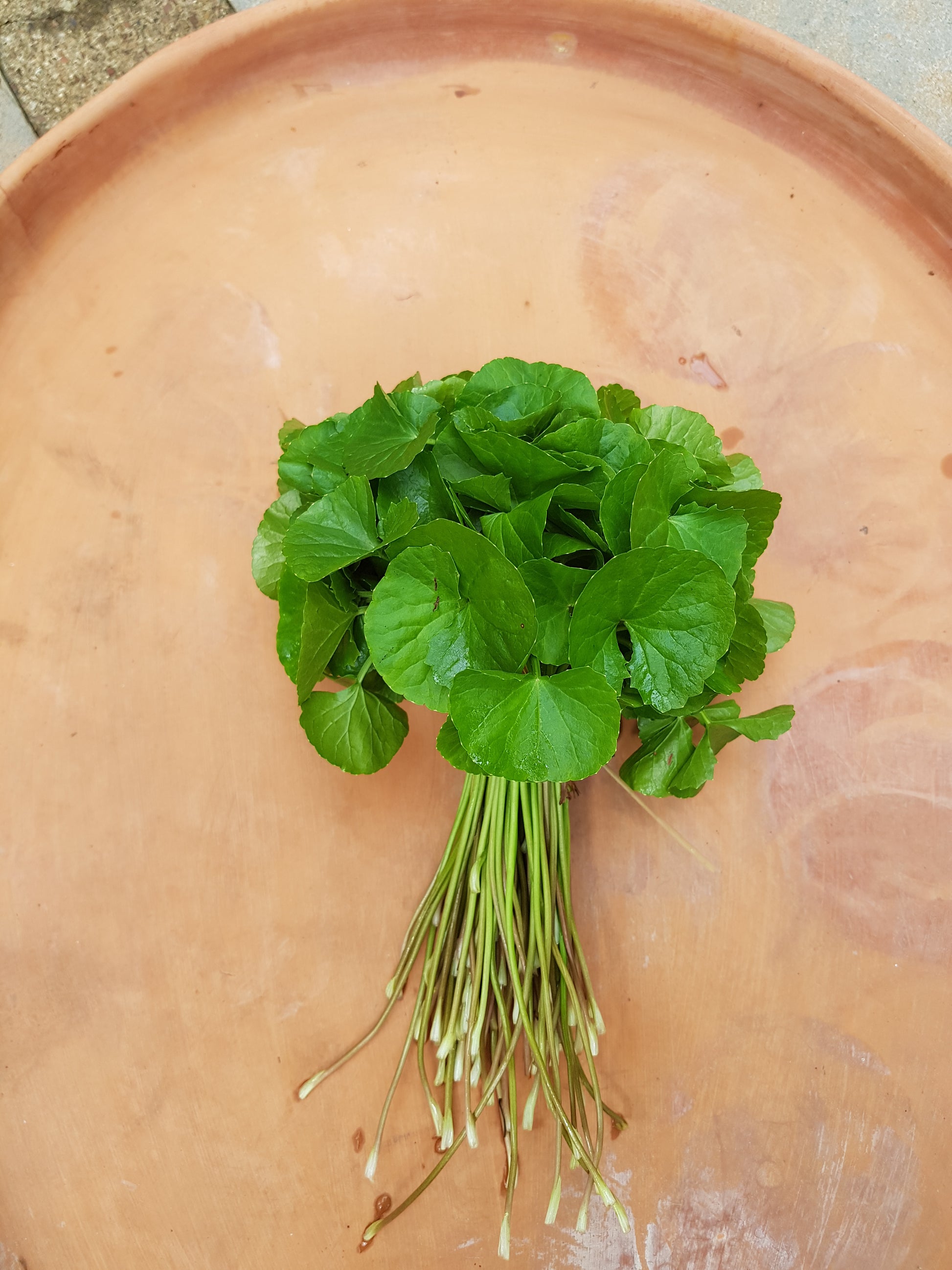 Sale price
Rs. 30.00
Regular price
Product description
Shipping & Return
Bacopa, also known as Brahmi, may offer several health benefits. It has been traditionally used to enhance cognitive function, reduce stress, and provide antioxidant support. Bacopa may also have neuroprotective effects, mood-regulating properties, and potential benefits for digestive health. Consult with a healthcare professional before use.
Brahmi Leaves Recipes:
Brahmi Summer Cooler

1 TSP Honey

1/4 spoon Cumin seed powder

1 cup water

Black Pepper powder to taste

1 TSP Brahmi powder or Bunch of Brahmi Leaves

Run the ingredients through a mixer and serve chilled. 
Brahmi Leaves Soup

2 cups Brahmi leaves

1 Onion chopped

4 Garlic pods

1/2 inch Ginger

1 tsp Fresh cream


1 tsp Cumin seeds

1/2 tsp Black Pepper

1 tsp Rice flour

30 grams Butter

1 tsp Salt

500 ml Water
Heat butter in a pan put onions, garlic, Brahmi leaves-saute until they are soft, allow to cool. Transfer to a mixer jar, put some water, grinde to paste.

Brahmi Syrup

To make Brahmi syrup, you will need the following ingredients and steps:
Ingredients:
1 cup Brahmi leaves (fresh or dried)
2 cups water
1 cup jaggery or raw honey (for sweetness, adjust according to taste)
Optional: 1 teaspoon lemon juice (for added flavor)
Instructions:
Rinse the Brahmi leaves thoroughly to remove any dirt or impurities.
In a saucepan, bring 2 cups of water to a boil.
Add the Brahmi leaves to the boiling water and let it simmer for about 15-20 minutes. This process extracts the beneficial compounds from the leaves.
After simmering, remove the saucepan from heat and allow the mixture to cool down.
Once cooled, strain the liquid to remove the Brahmi leaves and collect the infused liquid in a separate container.
Return the strained liquid to the saucepan and place it over low heat.
Gradually add the jaggery or raw honey to the liquid, stirring continuously until it dissolves completely. Adjust the sweetness according to your preference.
If desired, add a teaspoon of lemon juice to enhance the flavor of the syrup.
Allow the mixture to simmer for a few more minutes to achieve a syrup-like consistency.
Remove the saucepan from heat and let the Brahmi syrup cool completely.
Transfer the syrup to a clean, airtight jar or bottle for storage.
You can consume Brahmi syrup by taking a spoonful daily, preferably in the morning. Brahmi syrup is believed to have potential cognitive and stress-relieving benefits, but it's always advisable to consult with a healthcare professional or herbalist before incorporating it into your routine, especially if you have any underlying health conditions or are taking medications.
Shipping cost is based on weight. Just add products to your cart and use the Shipping Calculator to see the shipping price.
We want you to be 100% satisfied with your purchase. Items can be returned or exchanged within 30 days of delivery.