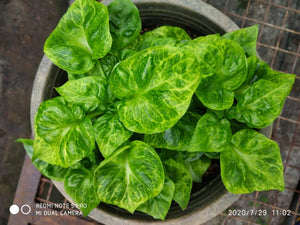 Mangaal Harvest
Brazilian Spinach
Regular price
Sale price
Rs. 40.00
---
Brazilian Spinach, also called Sissoo Spinach, is a low growing perennial growing as a compact mound to 30cm. If allowed to spread it may develop as a creeping ground cover in ideal tropical conditions.
It has a decorative rich green colouring and a crinkled or 'bubbly' leaf structure. In short, it looks like a salad green which is exactly how it is used in its native Brazil.
It is a good-tasting, wet-season, green leafy vegetable, without the slimy or mucilaginous texture and can also be used as a spinach alternative in cooking.

Use it steamed or stir-fried or in salad also,


Brazilian Spinach Uses:
For culinary uses, it is suggested to steam or boil Brazilian Spinach to reduce the presence of oxalates in the leaves if to be consumed in large quantities.

Brazilian Spinach Benefits:
Maintain Eye Health

Good Source of Vitamin K (For Bone Health)

Good Source of Vitamin C (Helps with Gum Problems)

Rich in minerals such as magnesium, zinc, phosphorus and copper (For Stronger Bones)

Helps with Weight Loss Digestive System Health

Maintains Stamina

Brazilian Spinach Recipes:
Brazilian Spinach with Sesame Miso
Ingredients:
200g Brazilian spinach (leaves only)

2 tbsp miso, or to taste

2 tbsp roasted sesame seeds, ground

1/2 tsp sesame oil
Maple syrup, to taste

Steps:
Rinse the spinach until the leaves are soft. Remove the leaves from hot water and squeeze out as much water as possible.
Mix miso, ground sesame seeds, sesame oil and maple syrup with some water to form a paste.
Mix paste thoroughly into the blanched Brazilian spinach.
Serve immediately or keep in the fridge to serve later.

Creamy Brazilian Spinach
Ingredients:
Brazilian Spinach - About 100g with stems (Washed and pluck)
Vegetable Oil - 2tbsp
Yellow Onion - 1 medium
Tomatoes - 2 medium or 15-20 cherry/grape tomatoes
Garlic - 2 cloves, minced
Salt and Pepper - to taste
Chicken Stock - 40g (or 1/4 tsp cumin powder for vegetarians)
Coconut Milk - 120g or 1/2 cup
Steps:
Slice your tomatoes and blanch them in hot water.
Over medium heat, sauté onions until translucent. Then add tomatoes and garlic and continue to sauté.
Add the Brazilian spinach and sauté a little more, then add the coconut milk, salt, pepper, and chicken stock (or cumin). Stir and let it cook for 2-3 minutes, then serve with rice!

If you like the product, please leave a review