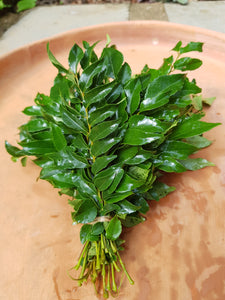 Mangaal Harvest
Curry Leaves
Regular price
Sale price
Rs. 10.00
---
Curry leaves (or Kadi Patta as they're widely known) as heavily used in Indian Kitchen to make curries, rice, snacks, etc.
They are known for their aromatic and distinctive flavour; however, they have more than just appetite-tickling flavour.
These leaves are said to have various health and beauty benefits to offer.
Vitamin A is one of the essential vitamins for your eyes. Curry leaves are loaded with this vitamin and thus eating these leaves in your daily diet may help in keeping your eyes in a healthy state.
Curry Leaves Uses:
Curry Leaves for Beauty

The anti-microbial properties present in the curry leaves and the presence of vitamin A and C help make these herbs great for the skin. You can eat them or apply them externally to reap their benefits.

Curry Leaves for Hair
Curry Leaves are highly beneficial for your hair and scalp. Use yoghurt and curry leaves together to make an amazing mix for your rough and damaged hair.
Culinary uses of Curry Leaves
Sauté curry leaves in ghee at high heat and then add the ghee and softened curry leaves to any dish of your liking.
Combine fresh or dried curry leaves with other spices, such as red chilli, turmeric, and cumin seeds, to make a flavorful seasoning blend.
Curry Leaves Benefits:
Have antioxidants
Good for Eyesight

Curry leaves can heal wounds and burns
May help in losing weight
Helps relieve morning sickness and nausea
Help sharpen your memory
Curry Leaves Recipes:
Curry Leaf Chutney

Try this super easy and delicious Curry Leaf Chutney Recipe by following the simple steps given below:

Ingredients:
1 cup curry leaves, 1 teaspoon vegetable oil,
1 teaspoon mustard seeds, 1 tablespoon urad dal

2 green chilli
salt as required

1 pinch powdered asafoetida

1/2 teaspoon cumin seeds ground

2 red chilli
Steps:
Step 1:
Firstly, wash the dal and the curry leaves and keep them aside. Place the red chillies over a chopping board and cut them into halves.

Step 2:
On the other hand, place a saucepan over medium flame and pour oil in it. Once the oil is heated, add mustard seeds.

Step 3:
Once the mustard seeds start to splutter, add urad daal and asafoetida powder into the pan. Turn the flame low and fry them until urad daal is red in colour. Turn off the flame.

Step 4:
Now, take a grinder and add curry leaves, salt, red chilli, water and the urad daal mixture into it and grind well. Serve with a dish of your choice and enjoy.
If you like the product, please leave a review