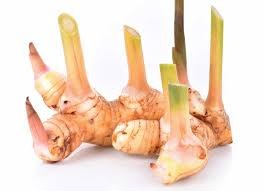 Mangaal Harvest
Galangal Root
Regular price
Sale price
Rs. 25.00
---
A spice native to Southern Asia, Galangal root is closely related to ginger and turmeric and has been used in Ayurvedic and traditional Chinese medicine for centuries.
Similarly to ginger and turmeric, galangal can be eaten fresh or cooked and is a popular addition to many Chinese, Indonesian, Malaysian, and Thai dishes.
To prepare it for soup or curry, peel off the skin and grate or mince it for a stir-fry. You can also add whole slices to your dish, but remove them before serving as the fibrous root itself is tough and inedible.
Galangal Root Uses:

Uses For Skin And Hair:
Reduces Skin Inflammation - Galangal contains several essential amino acids that help to build healthy skin cells and also suppress any redness and swelling that tends to develop on skin exposed to harsh environmental states.

Anti-Ageing Benefits - Galangal contains spermidine that aids in delaying skin cells from the process of ageing.

Uses Of Galangal In Ayurveda:
Remedies Heart Ailments - Galangal extract is considered as one of the best remedies for cardiac ailments such as palpitations, irregular heartbeats, chest pain, high blood pressure and coronary heart disease.
Battles Fevers - The phytonutrients or plant compounds in galangal leaves have an inherent temperature reducing potential.

Galangal Root Benefits:

Rich in antioxidants
May protect against certain cancers
May boost male fertility
May fight inflammation and pain
May protect against infections

Relaxes Muscle Cramps
Galangal Root Recipes:

Galangal Coconut Soup With Pumpkin
Ingredients:
1 medium galangal, finely chopped
2 cups coconut milk
3 tbsp black pepper powder
1 small pumpkin, cut, peeled and boiled
1 tbsp soy sauce
2 tbsp lime juice
3 spring onions, sliced
Salt, as needed
A sprig of coriander leaves, for garnish
 Steps:
Heat the coconut milk, adding some water in a vessel on medium flame.
Put in the galangal pieces and black pepper powder and stir for 10 minutes.
Add the pumpkin slices and cook for another 2 minutes so they become soft and slightly mashed.
Pour in the lime juice, spring onions, soy sauce, salt and allow it to boil for 5 minutes until all the flavours blend in.
Turn off the stovetop, adjust for salt and pepper and serve this galangal coconut soup with pumpkin hot for lunch or dinner.
If you like the product, please leave a review