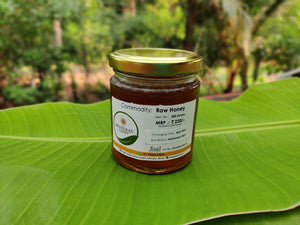 Mangaal Harvest
Raw Honey
Regular price
Sale price
Rs. 225.00
---
Honey has been widely used from ancient times for varied purposes. Some of the uses of honey are to strengthen the immune system, to treat colds, coughs and throat irritation and as a natural sweetener instead of sugar. Honey is also used for cosmetic purposes.
Sometimes due to air bubbles trapped in the honey during processing and packaging, the air bubbles work their way up to the top of the container, creating the foam. There is nothing wrong with the honey or the foam. Give it a good stir and the honey will be nice and smooth again.

In addition to this, the phytonutrients present in raw honey provide both antioxidant and anti-inflammatory benefits. Today, however, a lot of commercially available honey is processed, which results in destroying or removing many important antioxidant elements as well as pollen and bacteria that are actually good for health.

Raw Honey Uses:
Raw Honey Face Wash - Honey is a natural humectant, which means that it does an excellent job of drawing in moisture from the air around you and into your face.

Raw Honey Cough Syrup - If for some reason you are unfortunate enough to catch the flu, try this simple yet helpful raw honey cough syrup recipe to cure cough.
Raw Honey Emergency Kit - Honey never spoils, so whenever you're running out of food in these emergency situations, you can always count on this sweetness. 

Raw Honey Benefits:
A good source of antioxidants - Antioxidants help to protect your body from cell damage due to free radicals.

Raw honey nutrition - contains smaller amounts of micronutrients such as calcium, magnesium, manganese

Antibacterial and antifungal properties - propolis in raw honey has antifungal and antibacterial properties which makes the potential for both internal and topical treatments significant.

Soothe a sore throat and cough - Honey is an old sore throat remedy that soothes the ache and can help with coughs. Add it to hot tea with lemon when a cold virus hits.

Raw Honey Recipes:

Whole Wheat Muffins with Honey
These yummy and filling muffins are a great way to start your day. Or try one for a healthy afternoon snack.
Honey Banana Muffin

This banana muffin recipe makes 10 muffins. It took me a few attempts to get the right moisture level for the muffins and cinnamon topping. Worth all the effort because they turned out to be so delicious!
If you like the product, please leave a review